applications list
DOWNLOAD COMPLETE LISTING BELOW
Solid Lifters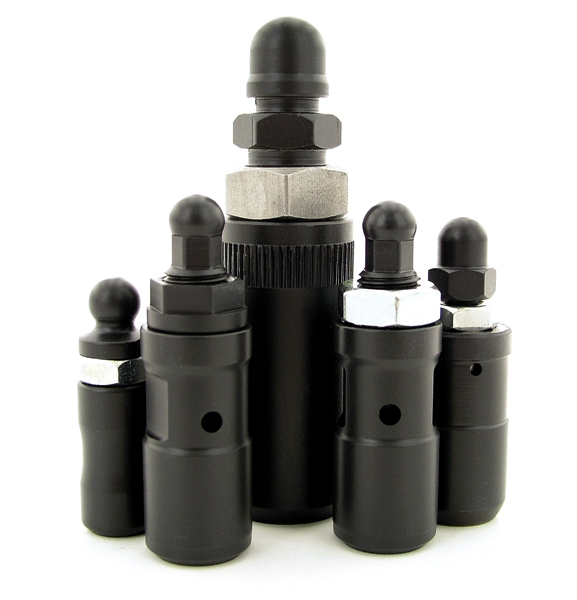 BLE Adjustable Solid Lifters.
Our original & best-selling products are our BLE Solid Adjustable Lifters, which have specific enhancements over the factory and aftermarket hydraulic units. Only the finest 8620 Aerospace and 4130 chromoly steel is used to manufacture this product.
Each assembly incorporates a fine-threaded lash adjuster, which features a radiused pivot head, built to exact OEM tolerances for use with the factory rocker arm. The lash adjuster is carefully heat treated to increase surface hardness for maximum durability & wear resistance. It is locked in place to the lifter body using an 18-8 SS jam nut. The lifter body is cryogenically treated and its outside diameter is precision machined to match the cylinder head slot and oil passage clearances. Furthermore, the assembly is then chemically coated with black oxide for lubricity, corrosion protection, and improved wear & anti-galling characteristics.
Features:
Made from the finest 8620 & 4130 chromoly steel
Manufactured to exact OEM dimensions
Increased HP & valvetrain control at high RPM
Fully adjustable - No need for shims (even with reground camshafts)
Heat treated surface for maximum durability
Black oxide conversion coated
Available for many OHC & DOHC applications
The main reason we designed this product is pure and simple... Horsepower. A solid lifter valvetrain is more consistent, opens to a greater extent, and closes faster than a hydraulic setup. This translates into better control of the valvetrain, as well as, more duration spent at higher flow valve lifts. In essence, more high rpm power is found by eliminating the physical "collapse" (and resulting power loss) experienced by hydraulic lifters at certain rpm thresholds and valvespring pressure levels. The stronger your valve springs, the sooner this collapse will occur with hydraulics! Similarly, fluctuations in oil pressure will affect the operation of your hydraulic lifters, not so with a solid lifter conversion. As a result, the BLE Solid Lifters allow for higher spring pressures to be run, as well as, more aggressive camshaft lifts. So go ahead, REV IT UP!
Drivability & the Dreaded "lifter tic"
Aside from the increased top-end horsepower and potential to turn your engine faster, drivability and low rpm power are also increased by closing the valves quicker and thus keeping cylinder pressures consistently higher. Your engine will even idle better and rid itself of the dreaded "lifter tic". The loud, obnoxious tic, tic, tic... you hear, when you start your car in the morning, is caused by excessive valve lash. Your hydraulic lifters are designed to eliminate all valve lash. However, after time, the internal mechanism gets dirty and/or begins to stick, thus preventing the rocker arm pivot from moving upwards to do its job. The problem can sometimes be induced by thicker oil weights, cold weather, or simply leaving your car parked for prolonged periods of time. Our BLE Solid Lifters will set the valve lash to spec and keep it there until you decide to re-adjust it.
Lubrication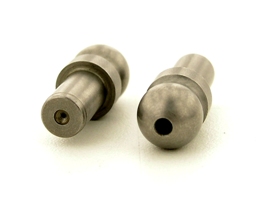 In race applications, where the engine is operated for shorter durations, and undergoes closer inspection intervals, a simple "splash" lubricated rocker pivot is acceptable. However, for street & daily operation, where constant surveillance is both unlikely and cumbersome, a steady flow of oil to the rocker is highly recommended for obvious reasons. With that said, our Solid Lifters incorporate an oil feed with a restrictor to lube the rocker, while functioning similar to the "controlled" bleed of the OEM hydraulic units. Other solid units on the market, with unrestricted oil (passages) release the full pressure of the engine's oil system, which can effectively lower the oil pressure excessively.
Mill-To-Spec Solid Lifters.

In many of today's late-model engines, such as the GM/Chevrolet Ecotec 2.0L, OE manufactures have turned to a "mini" SLA, making a solid adjustable alternative very unreliable. Here at BLE, we have exhausted many countless hours attempting to develop just that. However, durability is just as vital as horsepower in auto racing and therefore not an area to skimp on! We instead developed our one-piece solid lifters to make the performance benefits of a solid valvetrain available to these engines. Our Mill-To-Spec Solid Lifters are built to exact OEM tolerances and have been tested in some high-horsepower, high-RPM environments. The applications shown with the moniker M2S fall into this category.
All of our BLE Solid Lifter Conversions replace the factory hydraulic lifters and come with all necessary hardware for a complete installation. Our Mill-To-Spec applications will require machining and/or shims to complete the installation. These Conversion Kits are perfect for anyone upgrading the factory valvetrain and/or camshafts in their modern performance engine. Click on the application link above to find your vehicle.
Go To Top of Page
Race Tensioners

Maximizing valvetrain accuracy is key to squeezing that last bit of power from your high-performance engine. Back in the early 2000's, in an effort to complete the quest for absolute, true valvetrain orchestration, making sure the timing belt in our race engines was on point led us to devolop the Solid Race Timing Belt Tensioner that we offer today.  A perfect compliment to our Solid Lifters, These units replace the OEM hydraulic auto-tensioner found in many OHC engines. Never buy another factory auto-tensioner and make timing belt changes a breeze!
The factory auto-tensioners have a tendency to fail prematurely, usually causing expensive engine damage. With increased valve-spring pressures, high-lift camshafts, and stratospheric engine RPMs, the hydraulic auto tensioner can compress, causing a momentary slack in the timing belt, effectively slowing down or causing an inconsistency in the valve timing. Eliminate expensive hydraulic tensioner failures and save your high-end cylinder head(s)!
Our BLE Solid Tensioners are designed for race engines and high-performance street cars. They were born on the racetrack and engineered out of genuine, performance-inspired necessity. A must-have for dual valve spring cylinder heads!
Features:
Made from quality 4130 Steel or 6061 Aluminum
Eliminates timing belt skip even at insanely-high RPM
Fully adjustable belt tension – Set to your exact specs
Provides truer camshaft timing essential for peak horsepower
Manufactured to exact OEM dimensions and works with the factory block & covers
Makes timing belt changes a snap
A must for dual-valve spring heads
Go Big! Go Fast!
Top of Page